Patrol (Original title: Ronda)
LANGUAGE: 
Filipino with English subtitles
SYNOPSIS:
A policewoman roams the city of Manila to fulfill her duties as a police patrol and to look for her lost son.  
Ronda follows the journey of Paloma, a policewoman who patrols the streets of Manila at night. She is looking for her teenage son who has been missing for days. As she searches, she discovers truths about herself and the corrupt system she works in. Throughout the film, there are snippets of radio broadcast. The film is set while Former Philippines President Gloria Macapagal-Arroyo was being charged for plunder. Paloma, whose surname is Arroyo, like her namesake, is a woman in power who has lost control. She maintains a strong facade even though her world is crashing around her.
Trailer
1. 10th Cinemalaya Philippine Independent Film Festival
Manila, Philippines, 2014
2. P-Noise Filippinsk Film Festival
Copenhagen, Denmark, 2015
3. Lumiere Cinemavvenire Film Festival
Rome, Italy, 2015
4. Toronto World International Film Festival
Toronto, Canada, 2015
5. Singkwento International Film Festival
Manila, Philippines, 2015
6. Los Angeles World International Film Festival
Los Angeles, USA, 2015
7. 19th ICARO Festival Internacional de Cine Guatemala
Antigua Guatemala, Guatemala, 2016
8. Los Angeles CINEMA Film Festival
Los Angeles, USA, 2016
9. New York CINEMA Film Festival
New York, USA, 2016
10. 18th International Film Festival of Detective Films
Moscow, Russia, 2016
11. Singapore World International Film Festival
Singapore, Singapore, 2016
12. 8th Bengalaru International Film Festival
Bangalore, India, 2016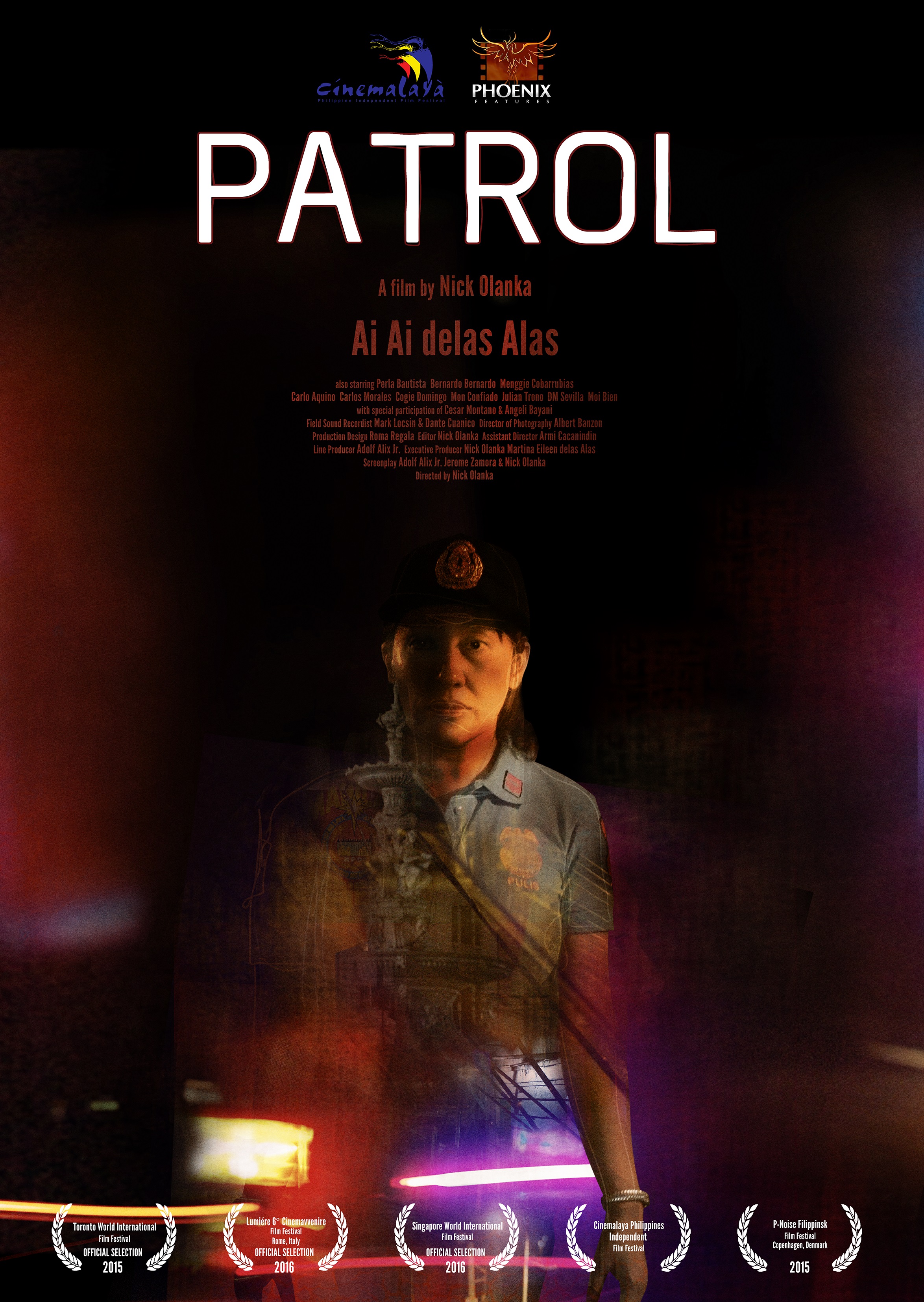 Link to the World Film Presentation:
https://worldfilmpresentation.com/film/patrol