Golden Bream
Trailer:
https://youtu.be/lAN3aLbpjpc
Categories: Short 
Language: Russian 
Genre: Comedy/Drama 
Runtime: 24 min
Synopsis: Young "secular nun" Elena goes on pilgrimage to holy places of Russia in the hope of healing her mental disorder. Feeling her Guardian-Angel's invisible protection, the girl enjoys her fascinating journey which is smooth sailing, without any difficulties, troubles, and woes. However having found herself in mystical cold Petersburg, at the eve of Christmas, Elena encountered a chain of mysterious events.
Director: Yuriy Konopkin
Producers: Ametist Film Writer: Yuriy Konopkin
Cast: Ekaterina Greben, Vladimir Kuznetsov, Alexander Zavyalov Completion
Year: 2016
Cинопсис
Молодые «светская монахиня» Елена идет в паломничество по святым местам России в надежде на исцеление ее психическое расстройство. Почувствовав ее
невидимая защита Контрольным-ангела, девушка наслаждается ее увлекательное путешествие, которое гладко, без каких-либо трудностей,
неприятности и беды. Однако, найдя себя в мистическом холодной Петербурге, в канун Рождества, Елена столкнулась с цепью
таинственные события.
Жанр фильма трагикомедия.
Продолжительность спектакля 23:39 мин.
Ведущие Актеры: Екатерина Гребень, Владимир Кузнецов, Александр Завьялов
Сценарий Юрий Конопкин
Директор г-н Юрий Конопкин
Cast: 
Ekaterina Greben, Vladimir Kuznetsov, Alexander Zavyalov
Release Date: 
Wednesday, December 7, 2016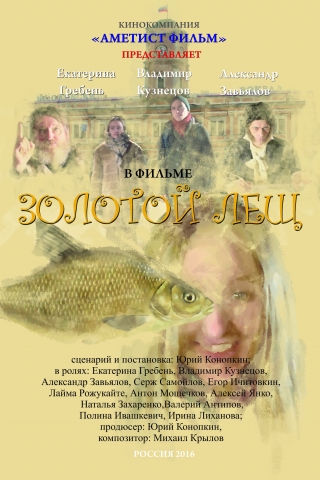 IMDB link:
https://www.imdb.com/title/tt6394204/
Link to the World Film Presentation:
https://worldfilmpresentation.com/film/golden-bream-0
Link to the World Film Fair:
https://worldfilmfair.com/film/golden-bream-0